Posted: 7/5/2018 | Updated: 8/2/2018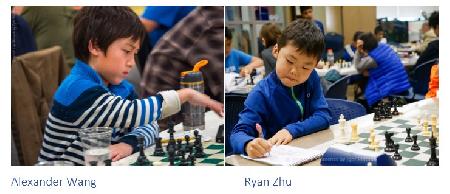 The weekend of June 1-3 was very exciting for two of ICA's youngest players, Alexander Wang (age 8) and Ryan Zhu (age 6), because they were selected to play in the Chesskid
Online National Invitational Championship. Ryan is the third highest rated player under age 6, with a rating of 1318, while Alexander is the fifth highest rated 7 year old, with a rating of 1587!
The first round took place at ICA's Teaneck location on Friday at 7 pm. I was concerned that the round was starting so late, because although they are fierce chess players they are also young children who usually go to bed by 8 o'clock. My fears were unfounded when both games were finished before 8:30 with wins for the ICA duo. Ryan quickly outplayed his opponent Rohan Rajaram, while Alexander followed suit and finished off Omya Vidyarthi.
Round three was the tough round, as both boys were playing the highest rated player in their section with Ryan manning the white pieces against Dhruva Dinesh Patel and Alexander with black against Rachael Li, who has managed to get her rating up to 1884 at the ripe old age of 8. Ryan notched another win and Alexander drew.
On Sunday, we moved to Glen Rock for the final two rounds. Ryan had black against Stanley Wu scoring his first draw. Alexander had black against Andrew Jiang and took a half point. This set up the last round where a win for Ryan would clinch the section, whereas Alexander would need some help from his fellow competitors. If Rachael drew against Omya and Alexander won his game against Cannon Farragut, there would be an Armageddon playoff. Ryan had a heartbreaking loss to Carter Ho who won the section in a playoff against Rohan Rajaram. Alexander got the help he needed when Rachael and Omya agreed to a draw. Alexander refused to give up and overcame a bad position to win and that's what makes these kids so exceptional. I was told that Alexander's playoff would not start before 9pm (it was now 8:20pm), again leaving me fearing for his ability to stay awake. Alexander as the lower rated player was allowed his choice of color (white receiving 20 minutes to black's 10, but black had draw odds). Alexander immediately chose black and joined me in watching commentary and checking out the other games. As 9pm neared his father anxiously awaited the start of the match. Finally just after 9 pm, Rachel made her first move, eventually leading to an advantage for white. However as you know Alexander is resilient and was able to equalize and in the end accepted Rachel's draw offer, becoming the Age 7 CONIC 2018 Champion. What an exciting end to a long, long day!
Senior TD Noreen Davisson